This is a small widget for mye to keep an eye on all the yarn I've used this year. I will note what I've used in all my projects.

Drops Air - 2
Drops Baby Merino - 3
Drops Big Merino - 5
Drops Fabel - 1
Hjerte Garn Mini Vital - 1
Lopi Léttlopi - 5
Sandnes Garn Smart - 1
Tinesshop - 5
Viking Merino Superfine - 5


SCRAP YARN WILL NOT GET COUNTED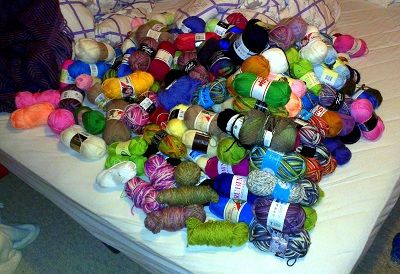 So here's my goals for the year:


Finish 3 projects each month. 1 each month from may-august
- One pair of socks count as one project.
- Each project will only be counted the month they get finished.

January: 3


February: 1


March:


April:


May:


June:


July:


August:


September:


October:


November:


December:




6 pairs of socks/slippers/footwear
Size doesn't matter.
Done: 1



6 pairs of gloves/mittens
Size, with/without fingers doesn't matter.
Done: 1



6 hats/headbands/earwarmers
Size doesn't matter.
Done:



6 cardigans or sweaters
More complicated projects, size doesn't matter
Done: 1

Finished projects: